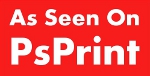 PsPrint hella loves Oakland! Did you know PsPrint was founded in 1990 in Oakland, Calif., as a one-room press shop? Fast-forward almost 25 years later, and we're providing online printing to the whole country. But our headquarters – and our heart – remain in Oakland.
This week's collection of inspiring printing features a number of San Francisco Bay Area customers, including some of our favorite places to visit, such as the Oakland Museum of California, The Layover bar, the lOAKal art gallery as well as our neighbor Brown Sugar Kitchen (seriously, next time you pick up your order – pop down the street afterward for a housemade sticky bun).
And have you observed The Bay Lights? It's a privately funded LED light exhibit on the Bay Bridge. The postcard we printed for the one-year anniversary featuring James Ewing Photography makes the lights seem to sparkle from the paper stock.
Finally, an Oakland-themed blog post wouldn't be possible without one of our favorite customers, Oaklandish. I regularly showcase Oaklandish postcards and stickers around my house and cubicle, because each and every print piece is artwork, including the postcard showcased below that features a mural by TDK Collective.
For even more design inspiration, get stuck scrolling through our customers' recent sticker orders in last week's "Hot Off the Press."