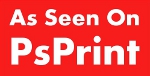 PsPrint prints lots of business cards, stickers, postcards and other items. But once in a while people ask me about banners. Yes, PsPrint prints vinyl banners as well as canvas backdrop banners. This week's collection of our favorite recent customer orders includes an example of each!
Banners are so versatile – they're perfect for getting attention at festivals, trade shows and farmers' markets. They're wonderful for weddings and parties – in fact, my friends surprised me at my last birthday with a big ol' vinyl banner wishing me a happy day.
The banners we print here at PsPrint are made with fade-resistant, eco-friendly inks that withstand the elements. They're available in a variety of customizable sizes and in square or rectangle shape. Create your message and display it proudly!
Find inspiration for your next banner – and any other print marketing materials – in PsPrint customers' printing: