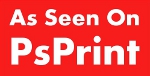 Great art requires great graphic designers to create great marketing materials. This week's "Hot Off the Press" highlights designers – including Karen Johnson, Steven Noffsinger and Terri Driscoll – whose creations find a balance between the talent they're promoting and information they're dispensing via postcard handouts, display posters and more.
The thing I love about print marketing is it's simple and inexpensive – if you work with an effective designer, you can craft a campaign that promotes your message in an eye-catching way. While I love those popular "more is better" commercials with the straight-faced man talking to children, a friend mentioned that he can't recall what product the ad series is for. I realized I don't, either (I looked it up – it's for AT&T). Paying for the filming and then buying airtime couldn't have been cheap for that ineffective ad campaign!
Print isn't dead because it's affordable to small businesses, and it can be done right when partnered with a good designer, as evidenced by the batch of PsPrint printing orders below. For more design inspiration, be sure to click on last week's "Hot Off the Press," which focused on nonprofit print marketing.