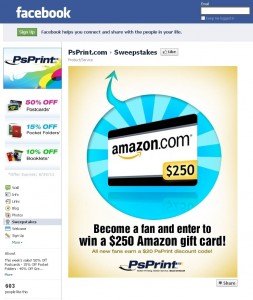 You're a regular PsPrint customer – you even recommend us to your friends. So what is the easiest way to keep up on all the latest PsPrint sales, news and graphic design blogs? Through Facebook, of course! As a "thank you" for you liking PsPrint on Facebook, we want to show you that we like you, too!
Become a new fan of PsPrint's Facebook page today, and you'll be entered into a sweepstakes for a $250 Amazon gift card. In addition, all new PsPrint Facebook fans will get a discount code for $20 off their next printing order. So everyone's a winner!
The PsPrint Facebook page is where you can find information about our printing discounts – check out the "About" column on the left. In addition, we notify you when a new PsPrint Blog post goes live. The PsPrint Blog covers graphic design, marketing, printing, freelance and small-business tips.
Don't delay – check out the PsPrint Facebook page today! This contest ends June 13, 2011.