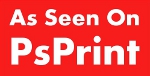 It's never too early to plan for the winter holidays! I was pleasantly surprised to come across holiday-themed magnets ordered by Brickman Concerts. PsPrint printed the limited-edition set featuring lyrics from Jim Brickman's biggest holiday hits. Currently, the magnet set is a promotional giveaway, and it will be available for sale online and on the road during Brickman's holiday tour.
In the meantime, there's been plenty of summer marketing printed here. We love artist Wardell Brown's vinyl banner he ordered for his booth this past week at San Diego Comic-Con. And the Gratifly music and arts festival – it starts today! – ordered a beautifully designed informational booklet you can see below.
Have you begun planning for the winter holidays yet, or are you still procrastinating on summer promotions? Scroll down for design inspiration of all kinds and be sure to visit last week's "Hot Off the Press," which featured colorful envelopes and more.