Kuler.adobe.com
Use Adobe's Kuler tool to search for color palettes based on keywords or to customize exiting palettes. You can click through to view the color values for print or web in HSV, RGB, CMYK, LAB and HEX. If you have Adobe's Creative Suite Software, then you can access Kuler right inside the Adobe programs. I really liked this autumnal palette below called
Madrid Guillo
. With the lime green it feels very upbeat and very now. I also like
Vintage Browns & Ocres
that incorporates a few berry-hues. This palette feels more 1950s or '60s to me. This one is called
Winter Elegance
. It's wintery but warm, and I could see it working well in a printed piece such as an
invitation.
This palette called
New Year's Eve
is also very wintery and muted. It might work well for a
business card
design.
Colourlovers.com
is another great online resources where users upload their palettes, and you can browse through them. Here are three fall and winter themes I found on Colourlovers.com. For Autumn I liked
Thought Provoking
, shown below.
Newly Risen Moon
reminds me of the sunset on a winter's night. This elegant palette might work nicely in a website design or for a
brochure
. Finally, the
Color Palette Generator
is a fun site where you can take any image on the web, enter the image URL, and it will create two composite palettes of colors from those images. One palette is dull and one is vibrant. As an example here are two images one for autumn and one for winter. For autumn I selected this leaf-peeping
Flickr photograph by di_the_huntress
. Here's what the
Color Palette Generator
came up with.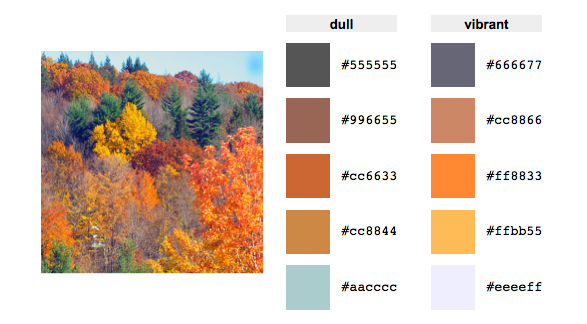 For winter I selected this
Flickr photograph by Jan Tik
. Here are the results in the
Color Palette Generator
.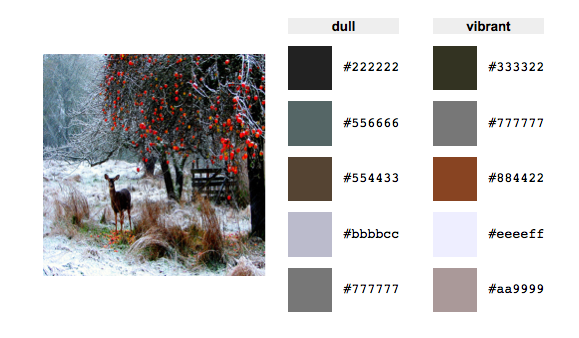 Please share any seasonal color palette tips or tools in the comments. Happy color hunting!
Happy September everyone! It's still pretty warm outside, but soon it will be time to dig out the old wool sweaters, hats and coats again. In honor of the changing seasons, here are some useful online tools to help you pick autumn- and winter-inspired color palettes. I will also show a few of my favorites from each website.