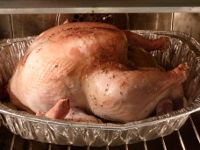 The holidays are a great time to try out new promotions. On the one hand, spending goes up as people shop for Christmas and Hanukkah, and on the other it's a time when we remember those less fortunate and are grateful for what we have. Here are a couple of marketing ideas that you can use to gain business while, at the same time, feeling warm and fuzzy.
Drawing. A quick and easy promotion is to hold a contest: Have your customers list what they're thankful for on the back of their business cards and drop them into a jar. Stipulate that by entering the raffle, they're also adding themselves to your mailing list. Then, in your next newsletter, mention a few of the thankful messages and announce a winner. For the prize, hand out one of your products or a discount for your services.
Food donation. Put up posters at your business asking customers to bring in nonperishable food items – in fact, offer them a discount for certain amounts. For example, 10 percent off with one to five cans of food, 20 percent for six to 10 cans, etc. Then, one day leading up to Thanksgiving, close up shop early and take your staff to a local food bank for some volunteering. Food banks often enlist people to help organize and distribute food and clothing to the needy. Businesses usually earn free publicity for this, so it's essentially paid advertising that benefits you and your community. Be sure to bring your camera so you can do your own publicizing in your next newsletter and on your website.
Want more Thanksgiving marketing tips? Read a previous PsPrint Blog post in which blogger Britt describes the marketing opportunities in recipe cards, cooking bookmarks and holidays cards. And earlier this month I discussed the idea of beating your competitors to the punch by handing out 2011 calendars at Thanksgiving rather than waiting until December.