A client of mine asked me to do an HTML e-mail blast for her, but it had been quite a while since I had worked on one. The software I'd used before didn't work with my current operating system, so I started looking for a solution.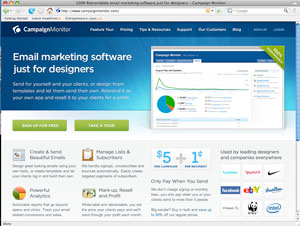 After exploring the possibilities, I landed on a winner. Campaign Monitor was simple to use and gives you the ability to rebrand the service. There are easy-to-use templates that you can customize to fit your client's needs. The tools to manage your list and subscribers are nothing short of brilliant. It handles unsubscribers and bounce-backs automatically, making it easier to target segments of the audience.
Powerful reporting tools let you seamlessly show your clients how effective your creative is. It tracks your e-mail-related conversions and sales, making return business a given.
The icing on the cake is the mark-up/resell functionality. You pay only $5 per e-mail campaign sent, plus $.01 per recipient. Your client, however, will see your own page with your logo on it showing whatever price you set. Your client pays Campaign Monitor, and the profits are sent to you. It really couldn't be simpler.
Knowledge of HTML is not required to use the service; however, if you do know HTML, you can create your own templates, making the possibilities endless.
If you're like me you are always looking for new ideas on how to increase your business. I was so inspired by the ease of it all that I implemented my own HTML e-mail campaign for a bit of self promotion. I announced it as a new service that I'm offering. Several of my clients have jumped at the chance to keep their creative projects under one roof.
Tell us about ways you've expanded your creative offering.