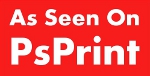 This week's "Hot Off the Press" features a great assortment of creativity – our PsPrint presses recently saw print marketing for dance, music, crafts and film. We're not talking just your typical song and dance – we're talking about Yo Mama's Big Fat Booty Band and jewelry made of cat hair. Yup, PsPrint has an eclectic bunch of customers.
Check out all the cool designs below and see if you can find inspiration for your next printing project. These include flyers, table tents, posters, stickers and business cards. For even more inspiration, be sure to look at last week's "Hot Off the Press."
We'd love to hear what you're up to – please let us know in the Comments if you worked on a cool design recently that was printed here at PsPrint, and we might include you in a future "Hot Off the Press"!