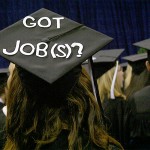 Graduation time is upon us. Every May and June, students from kindergarten on up to Ph.D level will be partaking in all kinds of pomp and circumstance to recognize their achievements and progression onto new endeavors.
Postcard and greeting card announcements are a great way to recognize new graduates. When families of the graduates or the graduates themselves send out an announcement, they can share their achievements with family and friends and potentially secure new career or educational opportunities.
Here's a quick list of some the benefits and uses for graduation announcement cards:
1. Keeping in touch
For high school seniors, graduation usually means relocation. Many students move to a new location for college, work or travel. Sending a custom announcement is a way for students to communicate their new address and their future plans to peers. If you know where the student will be studying next year, provide a graphic of the school's pennant or use the school colors in the design. It also helps to add the student's new mailing address as a way for friends or extended family to stay in touch or send care packages.
2. Generating job buzz
College grads can use postcards or greeting cards to let their network of family and friends know they are "new to the job market." The cards can include student's honors and achievements, their course of study or major and the kind of position they are looking for. You could even set up a blog or website, post a copy of the student's resume and provide a link to that URL on the postcard.
3. Announcing job placement
For those obtaining graduate degrees, graduation usually means wrapping up a long course of study with a thesis or dissertation and moving on to a different place and position. Whether you are continuing on to more school or field work or taking a tenure-track job, announcements are handy for communicating these plans, especially if you are relocating. Some undergrads may even be lucky enough (or accomplished enough!) to send out job placement announcements right from college. Let the networking begin!
4. Wonderful mementos
Custom postcards or greeting cards are also wonderful mementos for commemorating a graduation. With photos of the graduate taken during the ceremony, or photos of the student at work, or with their friends and peers, these cards become fodder for scrapbooking. One great idea is to interview the graduate about how they're feeling, what their interests are and what they hope the future brings. Then print the answers inside the card. In years to come the announcement will provide a nice glimpse into the past and how the graduate felt upon the occasion.