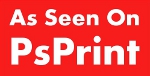 Out of all the different forms of printing, stickers are the most fun. You get to be a kid again and plaster the stickers on everything, from marketing materials to cars to packaging. Watch your stickers go viral as people stick them on unexpected places – PsPrint customer Raychel Severance once told me that her friends have been known to affix her "Raychel Approves" sticker all over the country.
Stickers have come a long way since the days when we'd collect scratch-and-sniff ones in books and trade them with friends. Nowadays they're a small business' best marketing tool because of their versatility. A sticker with your logo can be used for all sorts of things, such as a marketing handout or a label for food or beverages. You can save on packaging by buying plain bags, boxes, folders, etc., and affixing the sticker on them for branding. Homesteading is so hot right now, and PsPrint is seeing tons of customers designing their own sticker labels for homebrewed beer and wine, pickles, baked goods and other edibles.
Printing stickers is simple: Download a free template, choose from PsPrint's die-cut gallery or create your own shape. Then you just upload your image. And there you go – an inexpensive sticker that can serve so many purposes.
This week's "Hot Off the Press" showcases a sample of the beautiful, creative and just plain weird (Burning Man is around the corner!) stickers that PsPrint has printed recently. For more design inspiration, check out our collection of minimalist stickers with bold typography and ones with more adventurous typography. Of course, if you're not into stickers right now, you can always go to last week's "Hot Off the Press" for inspiration for your next postcard, brochure, business card or invitation.