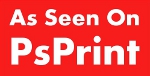 Your social media team here at PsPrint is buzzing lately – we've taken our own advice and have been working on new promotional strategies for 2013. We're getting into Instagram and ramping up our LinkedIn profile – keep an eye out for new PsPrint Groups on LinkedIn!
Now what about you? How are you marketing yourself and/or your business this New Year? Did you update your business cards? Design a new postcard handout? Freshen up the details on your sales data sheets? We'd love to see your new printing projects – please share them on the PsPrint Facebook Wall and in the Comments below. You could show up in the next "Hot Off the Press" or even win a $50 Amazon gift card!
If you're lacking in inspiration, though, just check out this week's collection of PsPrint customers' print jobs as well as last week's, which included some minimalist typography as well as dog art.