It's humbling to be thanked for providing printing services by an organization that aims to prevent child abuse, but that's exactly what Children's Advocacy Center of Collin County did on our Facebook Wall: "We couldn't be more thrilled with your services! The order we just received was quick, made to perfection, and affordable! Everything a nonprofit needs. Thank you so much for helping us create materials to spread the word that there is 'No Excuse for Child Abuse.'" No, no, no … thank you, CACCC, for providing resources to those in abusive situations. The Texas nonprofit is gearing up for Child Abuse Awareness Month in April, and it chose PsPrint to print its stickers:
If you'd like to donate to CACCC's efforts, click here.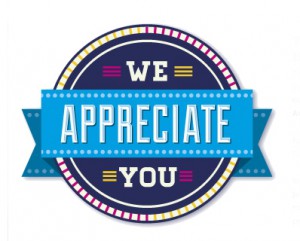 March is Customer Appreciation Month at PsPrint. To celebrate we are giving a shout out to some of our favorite customers every weekday on the PsPrint Blog. If you want to be appreciated, drop us a note at sonia@psprint.com or jennifer@psprint.com. And, if you want to learn more about our Customer Appreciation Month, which includes daily giveaways and exclusive deals, visit our Customer Appreciation page.