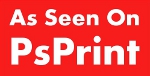 Space and beer. Monkeys and dance parties. A highlight of working at PsPrint is seeing all the fantastic designs that roll through our presses. Sure, we print lots of very business-y cards, brochures and catalogs, but many people have found ways to make sure their marketing materials aren't boring. Have a look at MSP Lighting and Video's postcard handout below – it looks like something a nightclub would produce, which is appropriate, because that's a scene the mobile-entertainment company caters to. Some other highlights in this week's "Hot Off the Press" include:
Designer Angela Kongelbak's retro postcard for "Darling Nikki," a monthly dance party featuring '80s music. I just love the color combinations and liney typography that take me back to the days of "Purple Rain."
Photographer Christopher Kennedy's postcard, which really makes you look twice to understand what is going on with his unique style.
Craig Coryell's brochure for Chabot Space and Science Center. Its playful design makes space look fun and entices people to become members, which is vital for the beloved Oakland, Calif., nonprofit.
If you're looking for more graphic design and printing inspiration, be sure to check out last week's "Hot Off the Press," which focused on creative stickers, from food and beverage labels to save-the-dates for weddings to even Burning Man handouts.