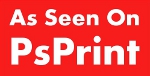 September should really be the first month of the New Year. It's a time of new beginnings: back to school, the first day of autumn, the weather changes. September is the perfect time to reassess your print marketing campaigns. Does your logo need a revamp? Should you get started on holiday catalogs and 2013 calendars? Are your business cards current?
As seen by the latest batch of printing orders below, PsPrint customers have all sorts of creative ideas for their promotional items, from Harvest Time Church's Circus Night postcard to Straus Family Creamery's sticker label for its "make your own butter" demo at the Heirloom Expo in Santa Rosa, Calif. Do you have fresh new marketing to show off on "Hot Off the Press"? Please let me know in the Comments below, and in the meantime, find even more design inspiration in last week's edition.
Also, if you're the exact opposite of a procrastinator and are already hard at work on your holiday cards and poster-style calendars, then be sure to enter them in PsPrint's 2012 Card and Calendar Design Contest. Friday is the final day to enter!