As more and more non-traditional couples tie the knot, the traditional rules of etiquette and ritual get neatly tossed out the window. Couples have non-church weddings in all manner of settings — at ranches and cabins, scenic lookout points, concert venues, nightclubs, warehouses. If you can think of it, a wedding is being planned there. So sometimes the formality of a snowy-white engraved invitation isn't in keeping with your wedding/yoga retreat, or your casual "We're Hitched!" BBQ. That's where quirky wedding invites come in. Unlike our previous posts on classic and modern wedding fonts there are few guidelines with quirky fonts. There are a few common categories, though. Let's check out the options.
1. Delicately ornamentedFor this brand of quirky you take a mix of classic, modern and decorative fonts and mix liberally. But here you'll be using them at small sizes and with a light touch to maintain a sense of airy prettiness. The other thing you'll need in terms of fonts are faces comprised entirely of type ornaments. Some ornament fonts: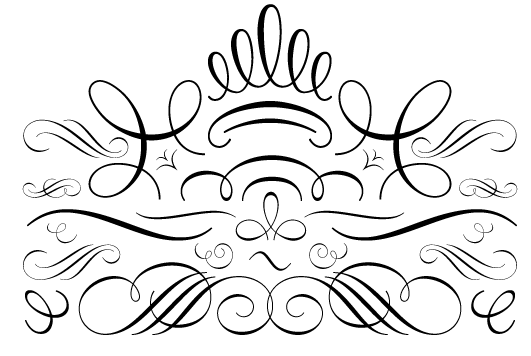 Ornament Accolades A from Myfonts.com

Sabon Next Ornaments from Linotype.com

LTC Ornaments 2 Pro from Veer.com

Schwander Ornaments from Myfonts.com
Some delicate quirkiness in action.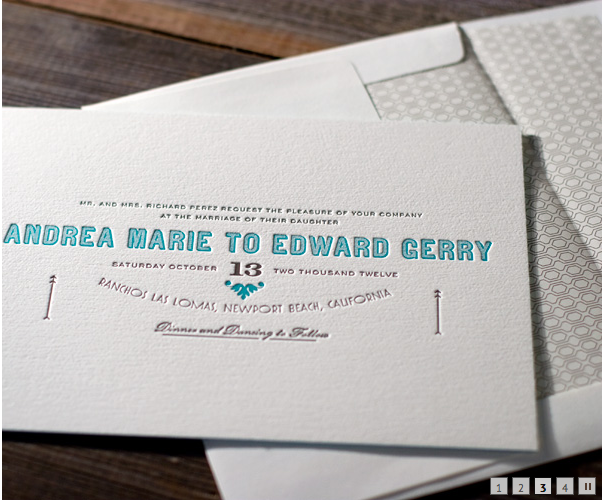 Note the flourish under the 13 and the tiny arrows. This one is from Bella Figura.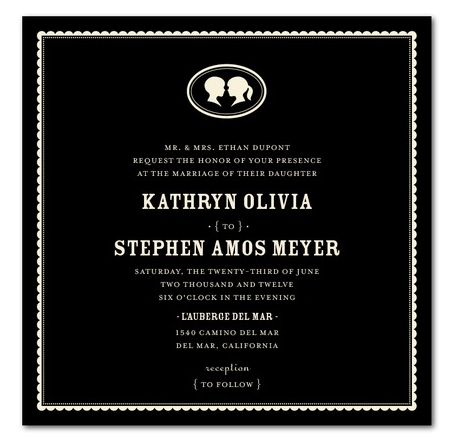 This one from Wedding Paper Divas uses a scalloped border with it's cameo silhouettes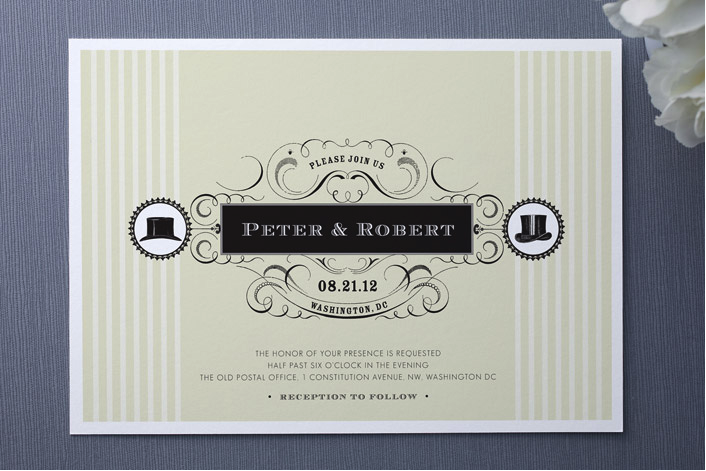 On this one from Minted.com flourishes are paired with two top hat engravings.
2. Boldly typographic In this style the key is to use type as your ornamentation, especially by using specific symbols at a large scale you can create a whimsical and extroverted look. Slab serif and decorative fonts are striking and useful for this look. Some slab serifs: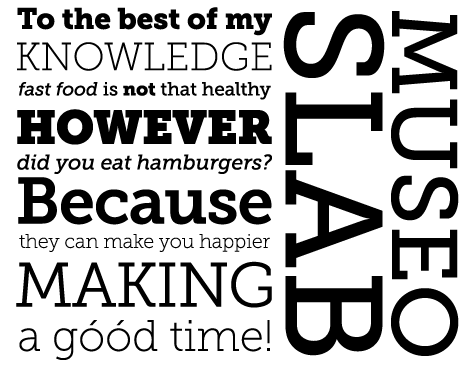 Museo Slab from myfonts.com

Facebuster from Veer.com

For a distressed slab serif Gatlin Bold from the Walden Font Company is a great choice. And it's part of a package of multiple fonts and clip art that can be had for $50.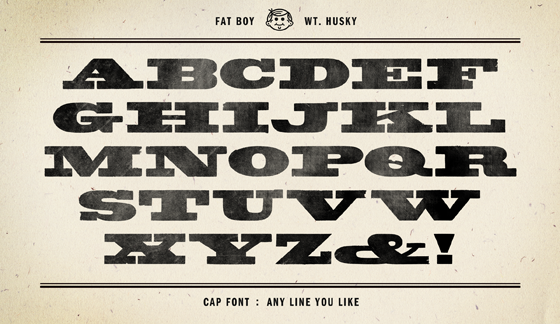 Or you can Download Fatboy Husky Beta for free here.
Some decorative fonts:

Sovereign Display from Veer.com has a nice engraving look to it.

Display Inline JNL from Myfonts.com is another nice choice with a more '50s flair.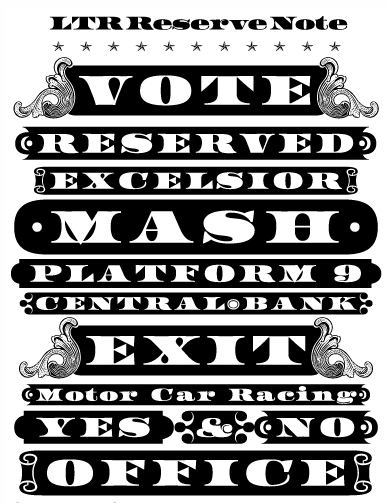 LTR Reserve Note from Letterror.com has the smell of money and government documents about it.
The boldly typographic look in action.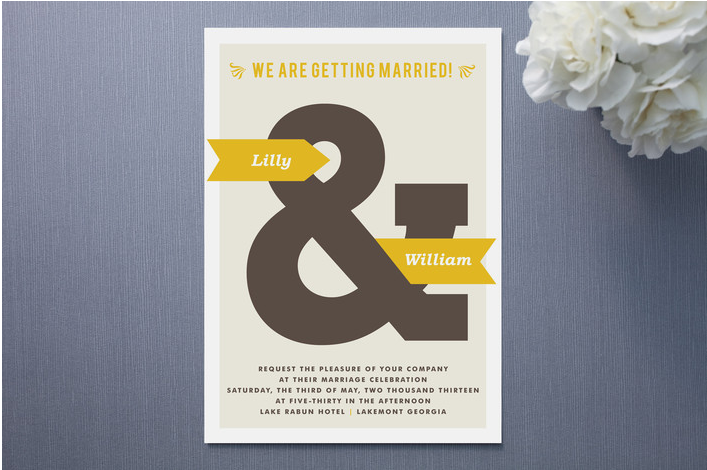 And Now from Minted.com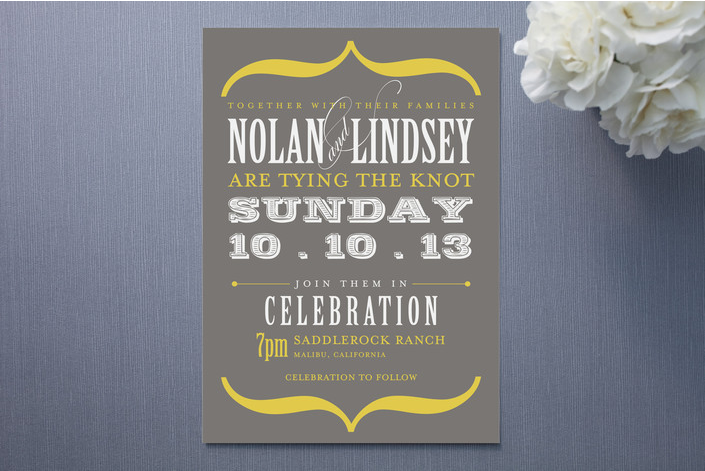 Bold Brackets from Minted.com
3. Hand lettered and illustrated Hand-lettered/illustrated invitesare often truly hand-done one of a kind pieces done by an artsy bride or groom, an artsty friend of the couple or a company such as Rifle Paper Company. While you may not have artsy friends or have the budget for custom invitations you can still get a hand-done look with some fonts that mimic it's irregularities.(Can't help you with the illustrations though. Maybe a street caricaturist?)
Some "hand-lettered" fonts:

Chank.com has a number of hand drawn fonts available for free download

Donaldson Hand from Veer.com looks elegant but is looser and more spontaneous than a traditional script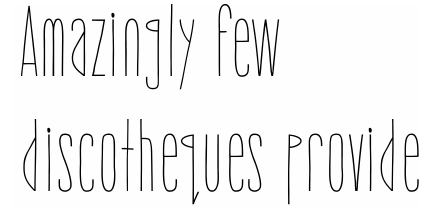 Firefly also from Veer has a sweet and funky quality to it.

Fugu from Myfonts.com is a bit bolderThe hand-lettered look in action.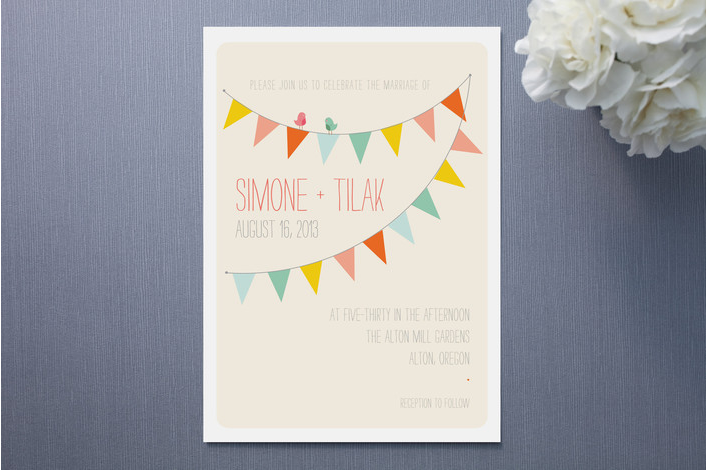 Barn Party from Minted.com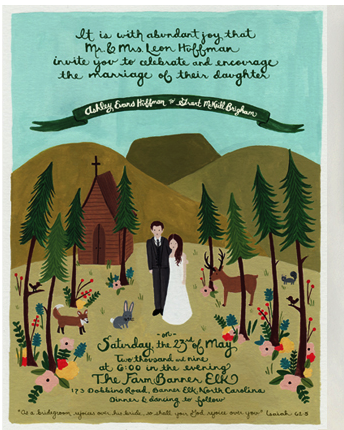 On this invite from Rifle Paper Company, the bride and groom, and the location of their wedding, are turned into a lovely watercolor illustration.
Custom invitation from Bird and Banner
4. Innovative materials OK, so this isn't really specifically about fonts but these invitations are super creative, which tends to be a hallmark of the quirky style. They're also quite inspirational.
These invitations from Bird and Banner were printed on a random collection of vintage handkerchiefs. Each invitation was completely different.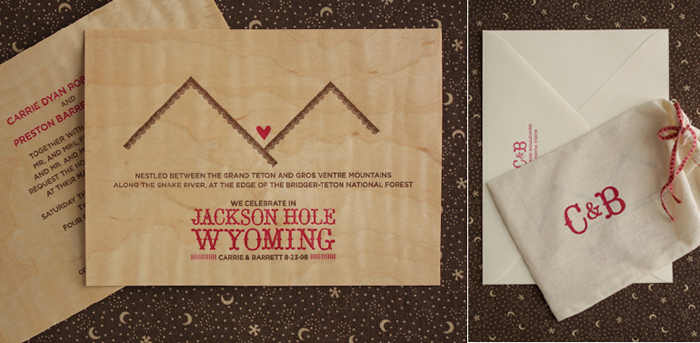 This invitation, also from Bird and Banner, was printed on wood and mailed in a monogrammed, drawstring cloth bag.