"I wish to be Batkid."
It's a lot of kids' – and adults' – fantasies, but Make-a-Wish is making it a reality for 5-year-old Miles. On Friday, San Francisco is transforming into Gotham City so that Miles can rescue a damsel – as well as the San Francisco Giants mascot Lou Seal – in distress and chase down villains. Miles has leukemia, so he's used to fighting battles, but on Friday he'll be doing so in front of spectators. If you're in the Bay Area, you can cheer on Batkid in action, and while you're there, keep an eye out for cards PsPrint printed that Make-a-Wish Greater Bay Area will be handing out. The cards have all the information for how to keep up to date on Batkid's progress as well as how you can donate to future wishes by children with life-threatening medical conditions. PsPrint is proud to contribute to Make-a-Wish's mission.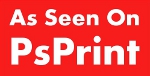 Holy design inspiration, Batman! In addition to the cards we printed for Make-a-Wish, this week's "Hot Off the Press" features plenty of other inspirational printing orders, such as retro typography on business cards for Vittles Films and Oaklandish's postcards as well as a look at what our new sheet sticker product looks like – the Blackhawk Museum ordered a handful of different designs on one sticker order, and now you can, too! For even more design inspiration, have a look at last week's "Hot Off the Press," which included a band's download cards.