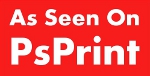 Assuming the Mayans are incorrect and there IS a 2013, you're going to need a calendar. No, I don't mean a digital one that doesn't allow you to easily view the whole month and has bland design. I'm talking about a printed wall calendar on which you can customize the art and flip through the months.
Calendars make great marketing tools because they're big and bold handouts – customers won't toss them aside. You can make calendars work for both you – by including coupons such as PsPrint customer Trophy Cupcakes did – and for your clients, such as by including on each page tips or verses, as North Coast Calvary Chapel did.
With just more than a week until the New Year, you may think your window of opportunity for designing and printing a calendar has closed. But think again: This 2013 Oakland A's calendar was obviously not designed by procrastinators, because it includes baseball players who've since been traded to other teams. See? It pays to wait until the last minute to be sure your images are relevant! So find inspiration in the following calendars PsPrint has printed in recent weeks and then take a little time to design and order your own – whether they're for your business or for holiday gifts. Making your own calendars is easy with PsPrint's free downloadable calendar templates.
For band sticker, church marketing and holiday printing inspiration, be sure to check out last week's "Hot Off the Press."