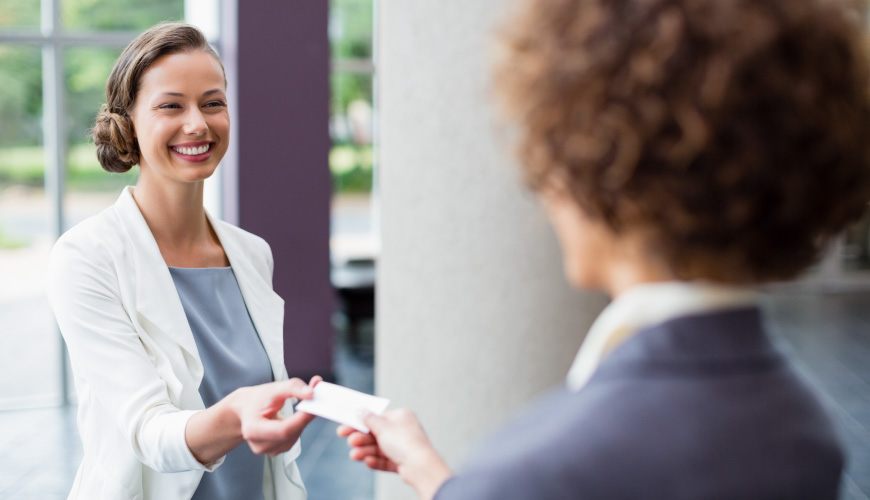 How many times have you been given a person's business card and loved the way it felt? Traditionally, most business cards have been printed on an uncoated paper stock with black ink. Thanks to the advances in printing technology and design, businesses of all sizes have the opportunity to print full color business cards on coated paper stocks or even a mixture of finishes.
Many believe coated business cards are superior to uncoated business cards, but that's not always the case. If you don't know the difference between coated and uncoated business cards, keep reading to learn what makes each style unique.
What are uncoated business cards?
Uncoated business cards are the ideal choice for professionals who want to write on their business card. Often times, people believe this is a matte finish; in reality, uncoated paper stock has a natural texture and zero gloss coating. Since they're not coated, they're easy to write on – even with ball point pens. This style makes uncoated business cards perfect for appointment cards or if you want the ability to write on the card, such as jotting down personal cell phone numbers and important notes for customers.
What are coated business cards?
Coated business cards are a popular choice in many business-related industries. This style features smooth finishes with different gloss intensities. You can print business cards on glossy or matte stock. Glossy coatings offer a bright sheen that helps your design pop off the stock. Matte coatings are less shiny and have a subdued look—you can usually feel this difference. For an added touch of luxury, you can use an UV high-gloss coating on details you want to stick out on the card. Keep in mind, coated business cards are difficult to write on. Since the coatings serve as a barrier, they do not allow ink to soak into the paper. 
Should you print coated or uncoated business cards? Which is best for your brand?
As noted, if you have a need to write on your business cards you should choose uncoated. Otherwise, your choice of business card comes down to the image you want to promote. 
Consider your brand's position in the marketplace. What are others doing? How can you be different?  Note, you can get the best of both worlds by printing C1S business cards: coated one side. This option allows you to print high gloss on one side rather than on both. That way, the glossy side can exhibit your logo and then the backside is left for writing. Think about what works best for you and your business. No matter the style you choose, a company with an "on-brand" business card is sure to make an impact.