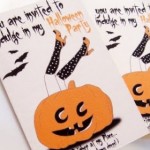 October is my favorite month of the year – the weather is changing, and it's time to curl up indoors with Halloween DIY projects. Someone has to throw a costume party, and it might as well be you, once you're armed with these inexpensive tips.
Eerie invitations.
Take advantage of invitation printing for 40 percent off the month of October – that includes my favorite, recycled matte paper stock. If you have a creative block, just search for Halloween graphic design tips and invitation ideas on the PsPrint Blog. Vampires versus zombies? No need to choose – they're all there!
Devastating drink labels.
Thirsty for some Cyanide Soda? How about Witches' Brew? Armed with a gothic font and a team of friends who are good with plays on words, you can come up with spooky beverage names, design labels, print them and then stick them on bottles, punch bowls, ice chests or party cups.
Nightmarish jack-o-lanterns.
I am terrible at carving pumpkins, but every year I'm inspired to try beyond the three triangles and a mouth. A simple Internet search yields hundreds of creative jack-o-lanterns, but this Flickr page of sci-fi pumpkins is perfect inspiration for the space-themed party I'm attending this month.
Monster-mashin' party mix.
You can't host a party without music. Last year I posted a Halloween mix that I listen to year-round. It includes "Werewolves of London" by Warren Zevon, "Thriller" by Michael Jackson, "Dead Man's Party" by Oingo Boingo and so much more. Another band I'll be adding to the mix is Captain Clegg and the Night Creatures, which I discovered this week by watching Rob Zombie's remake of "Halloween II." Check them out for some good old-fashioned hellbilly rock. What are your favorite Halloween projects?