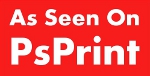 I've often stated that I'm constantly impressed with the creativity in our customers' print jobs. There's so much diversity running through our presses, from church programs to art show postcards to clothing hang tags to personal greeting cards. Then there are the printing orders I come across that make me ask, "What the heck is that?" They're often eye-catching, but I have no clue what they're for, and my interest is piqued enough to ask the customers. This week's "Hot Off the Press" contains a number of printing projects that have background stories, such as:
The "Chef Geoff" sticker is for a boyfriend's birthday.
MyGroove Design is celebrating its 7th anniversary with artist bio handouts.
Raychel Severance is on her second batch of "Raychel Approves" stickers, as she and her acquaintances stick them on cool places all over the country.
Artist Mark Brunner of HumanTreeRobot is attracting designers to the Unique SF show on June 30 and July 1.
"Hot Off the Press" continues to inspire me with all its unique designs. Did you catch last week's, with all the delicious, food-oriented marketing? If I missed your recent print job, please let me know in the Comments below.
About the Author:
| | |
| --- | --- |
| | Jennifer Moline writes for the PsPrint Blog as well as maintains its Twitter, Facebook, Google Plus and Pinterest presence. She also guest blogs for such notable graphic design blogs as Fuel Your Creativity and Inspiredology. She's previously written about technology and small business for news websites, magazines and newspapers. In her off-hours, Jennifer can be found roughing it in the mountains or tucked away in a movie theater. |