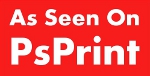 I come across a lot of orders here at PsPrint that catch my eye. Sometimes it's obvious what the print jobs are for, and sometimes they require a little more digging. I love chatting with PsPrint customers about how their printing projects will be utilized. This week I learned a few things:
After you pick up your order at PsPrint's Oakland Will Call in the next few weeks, you can pop a few blocks over to Arizmendi for the best pizza and scones as well as a poster sheet of customer R.Black's foldable gift box.
Ron Thurston graduated from being the artist for several Silver Creek Central School yearbooks to creating the poster and T-shirts for the school reunion.
The multitalented Sarah Sorrentino (graphic designer, photographer and business owner) orders square business cards for her stationery company, Foglio Press, to use for thank-you tags and marketing pieces.
There's all sorts of inspiring design in this week and last week's "Hot Off the Press." If all this inspiration gets your design wheels spinning, be sure to enter PsPrint's 2012 Card and Calendar Design Contest, in which we're offering more than $15,000 in prizes, including Amazon gift cards and free printing. You have through Sept. 7 to submit entries!