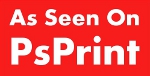 I love chatting with customers about the creative ways they use print marketing. Here are some highlights from this week's collection of the best PsPrint printing:
"Fiber Art Now" magazine prints a sticker to adhere to the front of folders for its media kit, which is sent to prospective advertisers.
What's better than a bookmark for promoting a book? Plastic Love Monkey Press is doing just that with its marketing for Román Leão's "Inside a Broken Clock." (Bonus tip: PsPrint just lowered the price on bookmark printing!)
The Monarch Butterfly Survival Kit's instructions are printed on a handy business card.
Other PsPrint customers in this issue of "Hot Off the Press" choose back-to-basics marketing in the form of the reliable postcard. For nothing but postcard design, please refer to last week's "Hot Off the Press."