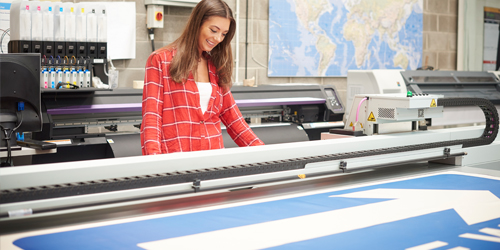 Effective banner marketing can be a powerful way to promote your products and services to local customers. Large banner printing is a cost-friendly way for your business to reach hundreds or even thousands of potential customers. Use banners to fuel sales with the following five tips for effective banner marketing.
1. Feature a targeted message and promotion
Start by developing a targeted message or promotion for your banners. Consider your customers and what they want by starting with these questions: 
How does your business fulfill your customers' goals and visions?

What problem are you solving? 

How are you making customers' lives better? 
Use these questions as a guide to form the foundation of your banner message and define exactly what you want customers to do next: visit your website, call your number or stop in at your brick-and-mortar location. Also tell customers why they should take action immediately; for example, you might offer a limited time discount. If your banner message communicates how customers can get what they want, why they need it and why they need it from you, you're off to a great start.  
2. Keep it simple 
Keep your banners simple and memorable to maximize effectiveness. That means short, bold headlines that command attention and stick in customers' heads. Rhymes and humor can be effective tools that help customers recall your banner later. 
Keep in mind, many people won't give your banner more than a passing glance. So, make your banners visually compelling. Limit the amount of text on your banners so they can be read and understood quickly. Make your call to action short: you might even create a special URL or phone number that makes it easy for potential customers to follow up. Don't overload your banners with information.
3. Craft an attention-grabbing design
In order to get customers to read, your banners must feature an attention-grabbing design. Some ways to get noticed include:
Unique images and symbols

Large, bold headlines

Contrasting colors
You don't have to incorporate all of these into a single banner design. In many cases, simple text-based banners can be just as effective as banners that feature creative artwork.  
4. Use targeted placement
Effective banner marketing requires strategic, targeted placement. There are two ways to target banner placement, and both strategies can be effective: you can place banners to achieve the most possible views or to reach a unique audience. 
One placement strategy includes busy traffic intersections, shopping districts and community events where your banners reach hundreds or thousands of people every day. For example, let's say you sell running shoes; you print a banner to promote a special discount sale and place near a busy intersection. You can reasonably assume a lot of runners will drive by it every day and send customers your way.  
A second placement option includes niche events, trade shows and other customer-frequented places that provide fewer yet more targeted views. In this case, if you sell running shoes, you might place banners at 5K races where everyone is a likely customer. Since banners are relatively cheap to print, you can employ both strategies to maximize your reach with banner marketing.  
5. Print quality banners at discount prices
It's important to print your banners on quality vinyl, vinyl mesh or canvas material with UV-resistant inks. This increases longevity and makes your banners look amazing — which makes your brand appealing. Choose the right banner material for your distribution strategy, then print premium quality banners at discount prices to maximize your return on investment. 
Effective banner marketing isn't rocket science, but it does require some thought to get the most bang for your buck. Apply these five tips to print effective banners that drive customers to your business. Start your effective banner marketing campaign today!