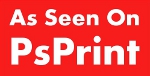 As back-to-school displays go up at stores all over, it's time to grasp on to the last days of summer. Sure, fall doesn't begin for another two months, and everyone knows the most summerlike days in the San Francisco Bay Area are in September and October – but that doesn't mean people don't start to panic right about now that summer is almost over and they haven't taken full advantage. That's why this week's "Hot Off the Press" is packed with outdoorsy design, including sports, gardening and outdoor concerts. Does anything feel more summery than dining al fresco? A few PsPrint staffers frequent our customer Lake Chalet because of its outdoor dining dock overlooking Oakland's Lake Merritt – I dare you to take a look at its postcard below and not feel the urge to make your next lunch plans outdoors.
For some people, though, the sun is the enemy and anything above 70 degrees is considered a heatwave. That's probably why Bay Area Drupal Camp, despite having "camp" in its name, is held indoors in the fall. BADCamp's cheeky sticker, seen below, seems to identify with its rebellious audience.
Last week's "Hot Off the Press" also contained inspiring, outdoorsy design, such as vintage farming postcards, lots of trees, and the Outside Lands music festival. If you have a printing job that was inspired by the end of summer or the beginning of autumn, please let us know in the Comments below!