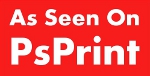 Your weekly "Hot Off the Press" is back! Did you miss us? There are some really cool print projects today:
Caroline Wallace printed business cards for Ciela, an international children's photography project whose first workshops for children and young adults in Peru will be held this month.
The poster design by Michael Goodwyn below is for JD Kiefer, Taylor Schleyer and Goodwyn's senior graphic design exhibit at Schreiner University in Kerrville, Texas. The show is going up April 9, at which point their website will go live as well.
Casey Storm Northern drew the art for her business cards, which she uses as hang tags on Tinybully's hats and gloves.
Do you have a unique use for print marketing? Have you designed anything you're quite proud of recently? Please let me know in the Comments below, and you might be included in an upcoming "Hot Off the Press"! We served up a nice slice of bacon printing in our previous edition – smell the design inspiration!