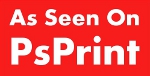 We love looking at all our customers' print orders – there are some seriously awesome and unique designs! That's why we showcase our favorites in "Hot Off the Press" every week. And now we want to see how you show off your own printing – we want to see your designs in action:
Is your promo postcard on display at your shop counter?
Did you find a great spot for your rack card?
Have you hung a vinyl banner or canvas backdrop in your place of business, convention or festival?
Did you go all guerrilla with your sticker marketing?
Are you flyering arena parking lots and outside nightclubs this weekend?
Please send us photos of your print job in action! Post a link in the Comments below, email jennifer@psprint.com or sonia@psprint.com, or share on our Facebook Wall. If you still haven't started that print job, you can always find design inspiration through our talented PsPrint customers below and in last week's "Hot Off the Press."