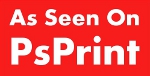 I returned home after Thanksgiving weekend to find two Christmas cards in my mailbox. I shouldn't have been surprised – I started seeing PsPrint customers place holiday printing orders in September. Those folks are smart, because the earlier businesses start working on winter holiday promotions, the earlier they can relax!
But don't fret if you haven't yet designed your holiday cards, calendar handouts or recital programs – "Hot Off the Press" this week is devoted to inspiring your marketing, whether you're spotlighting Christmas, Hanukkah or just the spirit of the season. These customers got pretty creative:
Kate Townley designed stickers for Journey Church that will be used as tree ornaments (the circles will have a hole punched and silver string through them). People will then "purchase" the ornaments by supporting the cause they represent. Townley told me this is Journey Church's version of Advent Conspiracy, which is an effort to spend less on Christmas gifts and share more time with people.
The Jewish Outreach Institute ordered stickers that will be used for Hands-On Hanukkah events that take place across North America. Each child participant receives a sticker as his or her "passport" for the program.
For Guatopo Design's 2012 holiday card, the surface and textile design studio enlisted principal artist/designer Adriana Mederos to hand-cut original trees in a folkloric style, and then creative director Stevie Black scanned the original paper piece and brought it into Illustrator, where he reworked the pattern in a second layer. From there, Black told me, he used typical tools and processes for building the overall illustration and colors scheme. "Color scheme was an important aspect to this project because we wanted to show a different range of capability from our studio," he said.
Do you need more design inspiration? Look to last week's "Hot Off the Press" for zombie stickers and more.