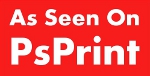 I'm going to share a few things I love this week:
Any of our Bay Area customers are sure to be familiar with the Oaklandish tree, and now it's on a bold and bright magnet we're printing. (Pssst ... magnets are 15 percent off this month.)
The Weber Grill Restaurant – with four locations in Illinois and Indiana – has a fantastic, minimalist designs by UpShift Creative Group, which has ordered menus, menu inserts and flyers through PsPrint.
Finally, for those lamenting the lack of an NHL season, I say, "Sharks who?" I attended the San Francisco Bulls vs. Stockton Thunder game last week, and it was a blast. I'm thrilled that the Bulls charged PsPrint with printing their promotional postcards.
This week's "Hot Off the Press" is a shorter edition than usual, but that's because we're all busy over here at PsPrint with holiday print orders – stay tuned for an all-winter-holiday edition of "Hot Off the Press" coming soon. With the holidays just around the corner, have you ordered your greeting cards, catalogs and other marketing materials? Let me know, because I'd love to showcase them in an upcoming "Hot Off the Press." If you're looking for graphic design inspiration, just check out last week's edition.