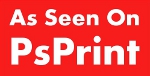 This week I'm thankful for having a job at which I'm surrounded by creativity, from the printing jobs that flow through our presses to interacting with businesses and individuals and seeing how they express and promote themselves. Every day I'm inspired.
I'm also thankful that PsPrint customers are fantastic people – this week's "Hot Off the Press" includes a number of customers who give back to the world:
Allison Kolarik of Comic Book Afterlife (scroll down to see how she can zombify you) is raising money for the victims of Hurricane Sandy. If you donate at least $15, she'll send you a zombie New Jersey poster (you'll have to click it to believe it).
Working Artists and the Greater Economy (W.A.G.E.) is printing stickers to raise awareness of the importance of paying artists and ensuring they're treated fairly and not exploited.
Also promoting itself via sticker marketing is the Classroom Fund, which allows Texas-area teachers to make requests for materials, and the Classroom Fund then finds funding, obtains the supplies and delivers them.
If you're thankful for design, then dish up even more inspiration with last week's "Hot Off the Press."
Happy Thanksgiving!