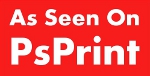 Here at PsPrint we see A LOT of postcard orders. And why not? Postcards are so versatile and make for inexpensive marketing handouts. But there are so many other print promo opportunities, as well, and this week's "Hot Off the Press" includes several ideas. Here are just a few examples:
Longtime customer Chronicle Books has printed business cards with its book titles for a long time, and now it's branching out into door hanger marketing.
Weyam Ghadbian's design for the Arab Cultural and Community Center would have been lost on anything smaller than a promotional poster.
Flyers are not just those items stuck in your windshield – they're quite versatile. You can order a flyer in sizes ranging from 2 by 2 inches to 17 by 12-1/2 inches. Plus, there are finishing options such as scoring, perforations for coupons and even die cutting. Via Brasil Steakhouse and Voodoo Chile Sauces are just two customers who printed flyers recently.
For more examples of PsPrint customers' printing, be sure to check out last week's "Hot Off the Press," which featured a bounty of creative print marketing.