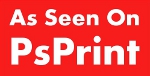 I am a sucker for print postcards. As I stand at the café waiting for my coffee, I peruse the stacks of postcard handouts. I learn of art exhibits, neighborhood handypeople, theater productions and new businesses. I've even been known to frame the more creative postcards – my way of being able to afford artwork!
Postcards are the perfect marketing tool because of their versatility: You can print them in a number of sizes and in full color or black and white. Postcards are inexpensive to print, which is ideal for nonprofit organizations and other budget-strapped companies, and they're easy to hand out – through direct mailing, a street team or just setting them out at a club, restaurant or gallery. I've chosen postcards as a cheaper option than holiday cards or invitations.
Postcards are one of PsPrint's most popular print products, and below is just a smattering of what we print here every day. Perhaps you'll find an idea for your next postcard promo campaign! I like the postcards that have an eye-catching, compelling image on one side that entices me to flip it over for all the information on the other – that's smart marketing.
If you're looking for design inspiration for business cards, sales sheets, posters, invitations or stickers, then be sure to seek out last week's "Hot Off the Press."