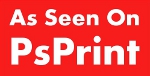 "Cute" is a term that makes some business marketers cringe, but in the appropriate situation targeted at the right market, cute design totally works. This week's collection of PsPrint customers includes a number of cute printing jobs.
Julie Ann Art took a crude saying and turned it into a whimsical notepad.
The Off-Road Vixens business card may include a cartoon woman, but she looks tough!
The Brush Guard's makeup-brush products fight gross "Ickie" germs, and its Ickie Stickie sticker labels make for adorable print marketing.
Below are more examples of cute printing, including comics-inspired and, of course, babies. For more design inspiration, check out last week's "Hot Off the Press."