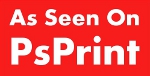 We're knee-deep in the holidays, and PsPrint is seeing a ton of end-of-year printing projects, from handout calendars to holiday cards to seasonal marketing postcards to rainproof banners.
One of my favorite printing jobs in this week's "Hot Off the Press" is Adam Myatt's 2013 Hoodcat Calendar, which he funded through a Kickstarter campaign. As a cat person working in PsPrint's West Oakland office (the neighborhood where the featured kitties were photographed), I want to get my paws on this calendar right meow. Follow my lead and email Myatt to get your own calendar.
If you're looking for winter holiday marketing inspiration, there's plenty in this week's and last week's "Hot Off the Press." Tis the season for printing procrastination, but at least with PsPrint's online printing, you can always place your order 24/7!