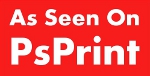 Can you believe it's almost the end of 2012? And the Mayans were wrong, so we can all celebrate! This week's "Hot Off the Press" includes several New Year's printing projects – including a postcard for the unique Phenomenon party – as well as fresh marketing, like the Noir City film festival's sexy-cool poster. Did you know PsPrint is a proud sponsor of Noir City? We're looking forward to partying like it's 1949!
Speaking of years, be sure to check out last week's "Hot Off the Press," which showcased a variety of calendar designs PsPrint customers have ordered. You're sure to find inspiration for your own calendar, whether it's a magnet, postcard or wall version.
Happy New Year from PsPrint!