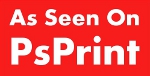 Sometimes marketing is much more than advertising – it's art! I would frame a number of the PsPrint orders in this week's "Hot Off the Press," including promotional posters we printed for Metromint di Giro and Art Explosion. For a real visual treat, be sure to have a look at all the posters and other work Schaaf Design has done for the Oakland City Center.
While posters are certainly eye-catching marketing tools, I'm also intrigued by Twisted Pixel's promo stunt – the videogame company printed stickers that it plans to distribute at PAX Prime in Seattle next week. Attendees will be encouraged to "wear" the stickers during the event for a chance to win a prize. What a way to make your marketing message stick!
For more design and marketing inspiration, check out last week's "Hot Off the Press," which included postcard handouts for art galleries.