Print colored paper business cards help you stand out from every other business card. Rather than print color ink on white paper stock, these business cards feature paper-deep color that embeds mood and style into your branding for a striking visual. In fact, potential customers keep color business cards ten times longer than standard white cards. The following details how you can make a memorable first impression with colored paper business cards.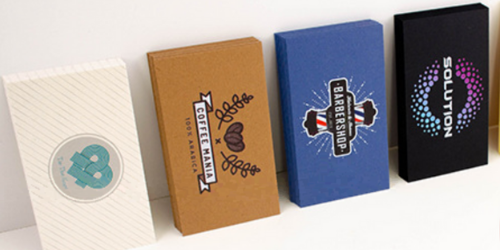 1. Select your colored paper business card stock
It's best to choose your color before you create your business cards so you can craft artwork that perfectly complements its background. Choose between:
Rich Gold: A smooth, 14-point thick gold paper stock with a pearlescent finish
Silver Quartz: Smooth and thick, this paper stock features a pearlescent finish for a sophisticated look
Imperial Red: Ultra-bright for the ultimate attention-getting paper stock
Chambray Blue: Classy yet contemporary, this timeless paper stock suggests strength and tradition
Deep Black: Invigorate your branding by printing bright colors for a striking contrast against a dark background
Kraft: This ultra-thick 17-point paper stock feels amazing in the hands and lends a rustic look that's popular with today's customers
2. Create your colored paper business card design
The next step is to design your business cards. Colored paper business cards take advantage of white ink technology, which makes it possible to print full-color designs on colored paper. White ink technology on colored paper stock creates rich, eye-catching color contrasts for dynamic designs that pop. Use it to command attention and capture the imagination of prospects — the first steps toward a powerful business card presentation.
Note that white ink technology requires special file setup. You can find instructions for Photoshop and Illustrator on PsPrint, or you can have PsPrint's design team set up your file for you. You can also download free business card templates that make it easy to set up your file in the proper size and resolution, complete with guides for the safe area, cut lines and bleed lines.
3. Print colored paper business cards
Once your design is complete and your file is properly set up for white ink technology, the next step is to print your colored paper business cards. This part is simple: All you need to do is choose the quantity, production time and shipping options.
You'll be given a free electronic proof to double-check your artwork before sending it to print. Once you approve your proof, your colored paper business cards will be printed and delivered to your door in just a few days.
4. Distribute your colored paper business cards
Finally, you need to put your colored paper business cards in the hands of prospective customers. There are many ways to distribute business cards, including the following ideas:
Hand them to prospects at networking events, sales meetings and your store
Stuff them in retail bags
Include them in mailers such as sales letters and brochures
Place them on counters and in business card racks (in places your audience frequents)
Pin them to community bulletin boards
Give them to friends, family and colleagues to hand out on your behalf
No matter which distribution methods you use, you can rest assured your colored paper business cards will stand out from competitors, command attention for your brand and leave a memorable impression on potential customers. Get started with colored paper business card printing.