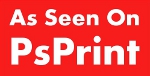 I mentioned last month that it's never too early to plan for the winter holidays. Sure enough, despite it being the middle of summer, this week's collection of printing inspiration includes calendars and even a season's greetings card. While you might sneer at these eager beavers, it may not hurt to take a cue from them, either.
Start brainstorming now for your holiday marketing, whether it's for your annual newsletter, calendar handout, snail-mail cards or gift catalogs. By starting promotion plans early, you have time to hold practice photo shoots, try out different graphic designs as well as write copy and put it on the back burner to let it simmer a bit. I always find it takes a few passes before the wording and other elements fit just right in any marketing collateral.
Speaking of holidays and gifts, did you see last week's "Hot Off the Press"? PsPrint is the printer for new company Do Your Park, whose magnets chastising incompetent vehicle parkers would make a terrific present for the impatient driver in your life.